Grease Trap and Inceptor Service and Maintenance
In the Commercial and Food Service industry a grease trap or inceptor supports the separation of grease and solids from wastewater. As water and grease from a sink or dishwasher enter a grease trap, the consistency of the mixture eventually separates to a point where the grease, which is lighter than water, will accumulate and float on the water's surface and the solids will settle to the bottom. Through regular scheduled maintenance, the grease and solids are removed from the system to support efficient operation of the drainage system.
When a system is not maintained the grease and solids will accumulate beyond the maximum levels for which the grease trap was designed. The grease will have no place to collect and overflows to the drain system and will eventually clog the drains and backup into the business establishment. Carleton Environmental Services is dedicated to eliminating these problems by providing a scheduled and reliable grease trap pumping service.
Our commercial services team will provide solutions to ensure your grease trap inceptor maintenance objectives are met.
We have a dedicated division to support the needs of food service operators of all types whether you are a restaurant, food service establishment, multi-unit operator, cafeteria, food processor, or any other type of food service professional. We are committed to ensuring that our technicians have the proper skills, experience and industry knowledge to suit the special needs of each of our individual clients. As always, 24 hour emergency service is available 7 days a week.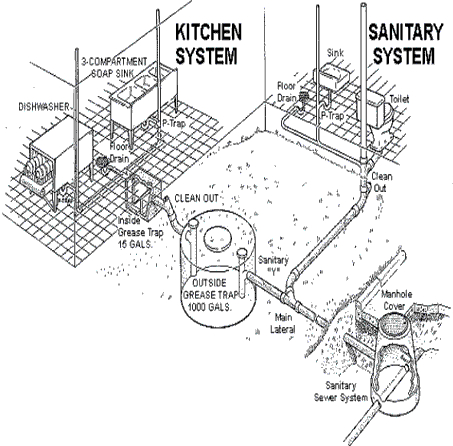 Complete Food Service Waste Management Programs
Carleton Environmental Service Technicians are experts with respect to the care and maintenance of grease trap and drain line systems. Our technicians will perform a complimentary service check of your grease trap system when completing the cleaning with every visit. We offer a biological additive program designed to keep your system operating properly and to keep you in compliance with any by-law or requirement of governing agencies.
We also offer additional drain cleaning services such as jetting that can be completed in conjunction with your service. Clogged drain lines cause unsanitary backups and may create the need for emergency service. Our jetting procedure reduces these incidents and helps keep your system in peak operating condition.
Supplementing our dedicated grease service truck we also have a portable cleaning machine for small or congested locations such as food courts.
Contact our office today at 613-838-5500. We are confident that we have a maintenance plan for your business.
Grease Trap Servicing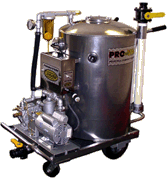 The most common cause of kitchen drains backing up is a poorly maintained grease trap system. Our approach is to, not only empty the grease trap body, but also examine and clean the inlet and outlet pipes, as required.
The solution is a regular grease trap maintenance schedule that can prevent troublesome drain back up which causes kitchen shut down and, therefore, loss of revenue.
Our premium service includes removing the lid, pumping out food and grease waste from the grease trap, inspect both inlet and outlet pipes and removing any obvious blockages (i.e. grease, stir sticks, etc.), returning the lid.
Grease Trap Service Tips
It is highly recommended that only a licensed hauler remove grease trap waste.

Get on a regular grease trap service program.

Do not put any fryer grease down sinks. Put screens in sinks to collect any solid particles.